We're heading into a BIG away game this weekend (Beat 'Bama), and it's the perfect time for a giveaway!!!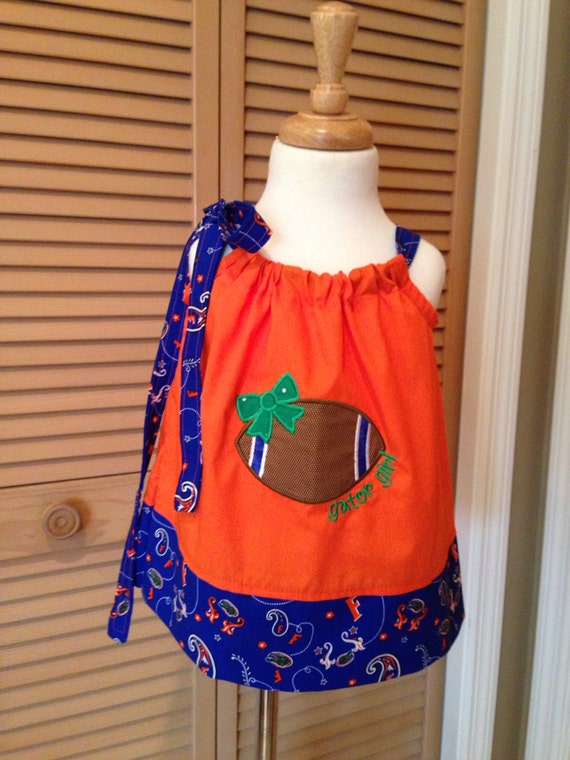 I stumbled upon Unique Memories by LeAnn as I searched Etsy for Frozen items (what parent isn't these days?!). I saw her adorable Gator Pillowcase dress, and the rest is history. It's now in my hands to giveaway to one of my readers for their little Gator Girl.
This custom-made University of Florida "Gators" Football appliqué pillow case dress features Orange and Blue logo trim, and an Appliqué Football with Green Bow and "Gator Girl." Giveaway dress is Size 0-12 months (14.5″), but if you want to buy from LeAnn, other sizes are available.
I have 3 items in front of me I've ordered from LeAnn, and all are of the utmost quality. The embroidered items are perfect and her sizing is true to her specs. I'll share with you what else I bought from LeAnn in mid-October. As always….It's Great to be a Florida Gator! Good luck!
How to Enter
This contest is being held on this blog and on Facebook as well. Choose to enter one way, or both!
1. Leave a comment below on this blog post for an entry and/or:
2. Head to Facebook.You MUST be a fan of BOTH GrowGators and Unique Memories by LeAnn on Facebook. If you're not, just click the links to be taken to the pages to LIKE them.
3. You must COMMENT on the Giveaway Photo on the Grow Gators Facebook Page that was posted on Sept. 19 in order to enter the drawing! If you tag any of your Gator friends in your comment, each tag is worth another entry!
4. For another extra entry, SHARE the Giveaway Photo on your own Facebook page.
The GIVEAWAY ends next Friday, 9/26 at noon! The winner will have this dress in time for the next home game.